This is an excerpt from the essay. To read the entire essay
click here
clipped from
cabinetmagazine.org
A Minor History of / Miniature Writing
---
---
2060 B.C.E.
---
---
The earliest known example of miniature writing appears on a Sumerian cuneiform clay tablet measuring 1 5/16 inches by 1 5/8 inches. (Courtesy of The Lilly Library, Indiana University, Bloomington, Indiana)
---
1877 C.E.
Sixty years after the publication of James Parkinson's landmark "Essay on the Shaking Palsy," French neurologist Jean-Martin Charcot first recognizes micrographia, or increasingly miniaturized handwriting, as a clinical symptom of Parkinson's disease.
---
1884 C.E.
The Bibliothèque Nationale in Paris becomes the first library in the world to use microfilm to condense texts.
---
1894 C.E.
---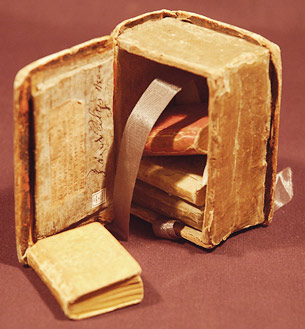 ---
Miniature book collector George Salomon of Paris disperses his seven-hundred-title collection, a library that reportedly "could be carried in a moderate-sized portmanteau." His spirit lives on today in the
Miniature Book Society
, an organization whose interests extend only to printed works three inches or smaller. (Pocket Library of Lilliputian Folio Books, London, 1801. Courtesy of The Lilly Library, Indiana University, Bloomington, Indiana)
---
2003 C.E.
The Guinness Book of World Records
recognizes
Pawan Sinha and Pamela Lipson
, a husband-and-wife team of vision researchers, along with psychology professor Keith Kluender, for creating the world's smallest book. While napping during an academic conference, Sinha, a Hindu, dreamt of inscribing the entire Bhagavad Gita on a grain of rice. When he awoke, he realized the Gita was too short to pose much of a challenge and instead conspired with his wife (a Jew) to develop software to print the 180,568-word New Testament in twenty-four-karat gold on a silicon chip. Each letter is the
size of a red blood cell
[
Check this out!]
The entire book fits on a five-square-millimeter tablet.